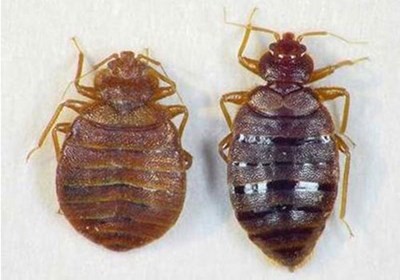 Bed Bugs are a very real problem in the United States. According to a survey conducted by the National Pest Management Association, 1 in 5 Americans has had a bed bug infestation in their home or knows someone who has.
In the pest control industry, we answer countless questions about bed bugs and consider ourselves "myth busters" when it comes to the tiny, blood-sucking pests. Knowledge is your first line of defense. Simply knowing how to correctly identify a bed bug and its basic behaviors goes a long way in preventing an infestation.
Basic bed bugs facts:
Bed bugs primarily feed on humans, but they also feed on warm-blooded animals, including birds, mice and pets.
Adults are just under ¼" long, relatively flat and oval in shape compared to most other insects.
Bed bugs can lay one to five eggs per day and more than 500 in a lifetime.
Bed bugs can survive for several months without eating.
Bed bugs can withstand a wide range of temperatures, from nearly freezing to 122 degrees Fahrenheit.
Bed bugs draw blood for about five minutes before retreating to digest.
Bed bug hatchlings are so small they can pass through a stitch-hole in a mattress.
Now that you're thoroughly disgusted, let's move on to how you can protect yourself. While there is no 100% guaranteed way to prevent bed bugs, there are steps you can take to greatly decrease your chances of bringing them home.
It's important to keep in mind that bed bugs can be found nearly everywhere. Hotels, movie theaters, apartment complexes, libraries, public transportation, retail stores, and even offices can all harbor bed bugs.
Quick tips to help keep you bed bug free:
Regularly inspect sleeping areas for signs of bed bugs such as pepper-like stains, molted bed bug skins and white, sticky eggs.
Never bring second-hand furniture, especially mattresses and box springs, into a home or college dorm without thoroughly examining it for signs of a bed bug infestation.
At hotels, thoroughly inspect the entire room before unpacking, including behind the headboard and in furniture. Pull back the bed sheets and check the mattress seams for pepper-like stains that may be evidence of bed bug activity. If you suspect an infestation or problem, notify management and change rooms immediately. Be sure the new room is not adjacent to or directly below or above the possibly infested room.
Keep suitcases in plastic trash bags or protective covers during a hotel stay to prevent bed bugs from nesting there. Do not put them on the beds.
Upon returning home from a trip, inspect all suitcases and other belongings before bringing them into the house.
Wash all clothes – even those that have not been worn – in hot water and dry them using an extra-hot dryer setting.
If you suspect or discover a bed bug problem in your home, it's best to contact a professional right away. Attempting self-treatment can often do more harm than good.
Need a pest control estimate?
We'll call you! Our representatives are fast and friendly.
Bed Bug Facts and Information for Prevention in Wisconsin
New Berlin | Oshkosh | Milwaukee | Kenosha | Madison | Racine | Appleton | Fond du Lac | Sheboygan | Cedarburg | Green Bay | La Crosse | Eau Claire | Baraboo | Wisconsin Dells | Wisconsin Rapids | Mauston | Viroqua | Chippewa Falls