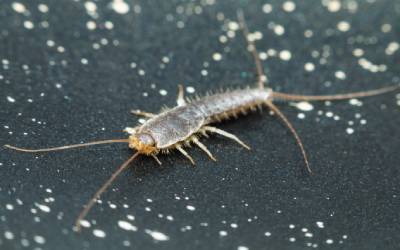 In a place that is supposed to be sparkling clean, the last thing you want to find is an outbreak of nasty pests. Water accumulates in our sinks, showers, and tubs, causing many different kinds of insects to take refuge in our bathrooms. The warm and humid environment created by our showers offers a welcoming environment for lots of pests in Wisconsin, not to mention a free source of water to drink. For more information on common bathroom pests, keep reading. We've asked our Batzner Pest Control technicians for some input!
Common Bathroom Pests
Lots of pests are known to infest bathrooms, but these are our top three to watch out for:
Cockroaches: Any warm, wet, and humid environment is the ideal home for a cockroach. Bonus points if they can find a dark cabinet to hide in during the day.
Silverfish: These insects are attracted to the same traits that cockroaches are. Since they have a lot of trouble climbing up smooth, vertical surfaces, silverfish will often be found by drains or along the shower or bathroom floor.
Ants: Having too much excess moisture building up in your bathroom is a sure way to attract a trail of ants. Looking for drinking water, they will travel through our plumbing systems, underneath our doors, or through cracks in siding and baseboards.
Finding spiders, centipedes, or drain flies in your bathroom should come as no surprise, either. Many pests find uses for our bathrooms, whether that be food, water, shelter, or all three.
Preventative Measures Against Bathroom Pests
Having a clean and dry bathroom is the best deterrent for pest problems. When you clean your bathroom, look out for these issues that could be attracting pests:
Wipe down countertops to eliminate any filth and remove standing water
Check for leaks in your plumbing fixtures often
Ensure that your bathroom is well-ventilated and not accumulating too much humidity
Clean up spills of soap, body wash, shampoo, toothpaste, or other hygiene products
Whatever you can do to reduce excess moisture and grime in your bathroom will help you avoid pest problems going forward!
Need Pest Control for Your Bathroom in Wisconsin?
If you can't use your bathroom without unwanted insects grossing you out, it's time to talk to your local pest control experts. The pest specialists at Batzner Pest Control are able to locate difficult-to-spot vulnerabilities in your Wisconsin home to help you keep your bathroom clean, fresh, and free of pests. Contact us today for a free quote—we would love to help you breathe easy in your own bathroom again!
Need a pest control estimate?
We'll call you! Our representatives are fast and friendly.
What Are Those Bugs in My Bathroom? in Wisconsin
Serving Wisconsin
New Berlin | Oshkosh | Milwaukee | Kenosha | Madison | Racine | Appleton | Fond du Lac | Sheboygan | Cedarburg | Green Bay | La Crosse | Eau Claire | Baraboo | Wisconsin Dells | Wisconsin Rapids | Mauston | Viroqua | Chippewa Falls